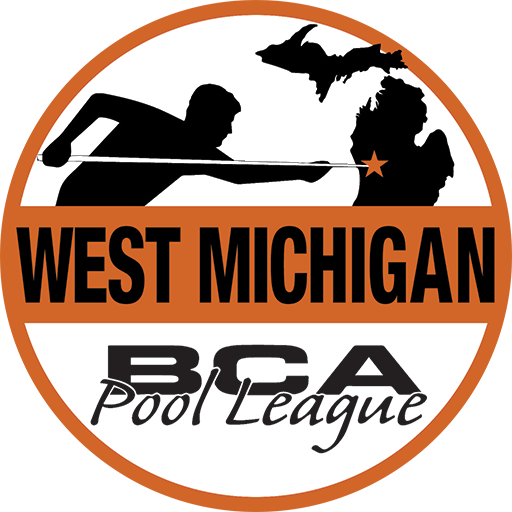 Pay Your Dues
Pay your Dues Online!
Weekly match dues can now be paid on this site.
This service is being provided as a convenience to you, and as such, you will be responsible for covering the fees associated with processing a credit card.
Additionally, if dues are paid after midnight on the day of play, you will also be assessed a late fee of 50 Cents.
Annual Dues

2021 – NEW Annual BCA Membership (Membership will expire 12/31/2021)

2021 – RENEWAL Annual BCA Membership (Membership will expire 12/31/2021)

2021 – RENEWAL W/2020 Unpaid Annual BCA Membership (Membership will expire 12/31/2021)

Pay In Full

Grand Rapids Wednesday Singles – Pay In Full ($154 Dues + $22 Greens)

8 Ball Dues

Grand Rapids Wednesday Singles 8-Ball Week 1 (OCT 13)

Grand Rapids Wednesday Singles 8-Ball Week 2 (OCT 20)

Grand Rapids Wednesday Singles 8-Ball Week 3 (OCT 27)

Grand Rapids Wednesday Singles 8-Ball Week 4 (NOV 03)

Grand Rapids Wednesday Singles 8-Ball Week 5 (NOV 10)

Grand Rapids Wednesday Singles 8-Ball Week 6 (NOV 17)

Grand Rapids Wednesday Singles 8-Ball Week 7 (NOV 24)

Grand Rapids Wednesday Singles 8-Ball Week 8 (DEC 01)

Grand Rapids Wednesday Singles 8-Ball Week 9 (DEC 08)

Grand Rapids Wednesday Singles 8-Ball Week 10 (DEC 15)

Grand Rapids Wednesday Singles 8-Ball Week 11 (DEC 22)

Laggers Choice Dues

Grand Rapids Wednesday Singles Laggers Option Week 1 (OCT 13)

Grand Rapids Wednesday Singles Laggers Option Week 2 (OCT 20)

Grand Rapids Wednesday Singles Laggers Option Week 3 (OCT 27)

Grand Rapids Wednesday Singles Laggers Option Week 4 (NOV 03)

Grand Rapids Wednesday Singles Laggers Option Week 5 (NOV 10)

Grand Rapids Wednesday Singles Laggers Option Week 6 (NOV 17)

Grand Rapids Wednesday Singles Breakers Option Week 7 (MAY 05)

Grand Rapids Wednesday Singles Laggers Option Week 8 (DEC 01)

Grand Rapids Wednesday Singles Laggers Option Week 9 (DEC 08)

Grand Rapids Wednesday Singles Laggers Option Week 10 (DEC 15)

Grand Rapids Wednesday Singles Laggers Option Week 11 (DEC 22)