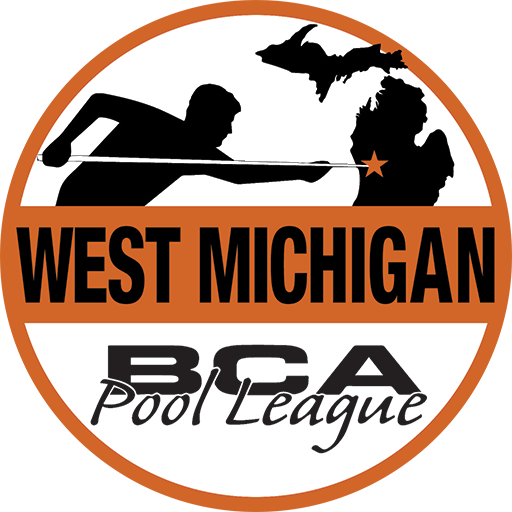 Thursday Teams
You are viewing the schedule for the Thursday Teams League, please click the button below if you wish to return to the main schedule/stats page.
Go Back
Pay Your Dues
Pay your Dues Online!
Weekly match dues can now be paid on this site.
This service is being provided as a convenience to you, and as such, you will be responsible for covering the fees associated with processing a credit card.
Additionally, if dues are paid after midnight on the day of play, you will also be assessed a late fee of 50 Cents.
Annual Dues

2021 – NEW Annual BCA Membership (Membership will expire 12/31/2021)

2021 – RENEWAL Annual BCA Membership (Membership will expire 12/31/2021)

2021 – RENEWAL W/2020 Unpaid Annual BCA Membership (Membership will expire 12/31/2021)

8 Ball Dues

Grand Rapids Thursday Teams 8-Ball Week 1 (Sep 17)

Grand Rapids Thursday Teams 8-Ball Week 2 (Sep 24)

Grand Rapids Thursday Teams 8-Ball Week 3 (Oct 01)

Grand Rapids Thursday Teams 8-Ball Week 4 (Oct 08)

Grand Rapids Thursday Teams 8-Ball Week 5 (Oct 15)

Grand Rapids Thursday Teams 8-Ball Week 6 (Oct 22)

Grand Rapids Thursday Teams 8-Ball Week 7 (Nov 05)

Grand Rapids Thursday Teams 8-Ball Week 8 (Nov 12)

Grand Rapids Thursday Teams 8-Ball Week 9 (Feb 04)

Grand Rapids Thursday Teams 8-Ball Week 10 (Feb 11)

Grand Rapids Thursday Teams 8-Ball Week 11 (Feb 18)

Grand Rapids Thursday Teams 8-Ball Week 12 (Feb 25)

Grand Rapids Thursday Teams 8-Ball Week 13 (Mar 04)

Grand Rapids Thursday Teams 8-Ball Week 14 (Mar 11)

Laggers Choice Dues

Grand Rapids Thursday Teams Breakers Option Week 1 (Sep 17)

Grand Rapids Thursday Teams Breakers Option Week 2 (Sep 24)

Grand Rapids Thursday Teams Breakers Option Week 3 (Oct 01)

Grand Rapids Thursday Teams Breakers Option Week 4 (Oct 08)

Grand Rapids Thursday Teams Breakers Option Week 5 (Oct 15)

Grand Rapids Thursday Teams Breakers Option Week 6 (Oct 22)

Grand Rapids Thursday Teams Breakers Option Week 7 (Nov 05)

Grand Rapids Thursday Teams Breakers Option Week 8 (Nov 12)

Grand Rapids Thursday Teams Breakers Option Week 9 (Feb 04)

Grand Rapids Thursday Teams Breakers Option Week 10 (Feb 11)

Grand Rapids Thursday Teams Breakers Option Week 11 (Feb 18)

Grand Rapids Thursday Teams Breakers Option Week 12 (Feb 25)

Grand Rapids Thursday Teams Breakers Option Week 13 (Mar 04)

Grand Rapids Thursday Teams Breakers Option Week 14 (Mar 11)